Happy Wednesday, Pollinator Patch Pals! As June comes to a close, I figured it is time to introduce myself properly, and of course share all of the new updates to our patches. So without further ado….
[Ashley Arons]
Wooster Pollinator Patch research assistant, Summer 2021
Environmental Conservation, College of Wooster 2023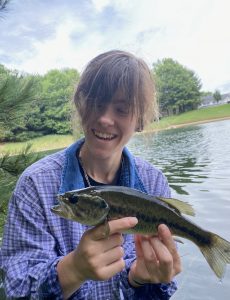 A bit about me:
I am a junior environmental conservation major and studio art minor at the College of Wooster. During past summers in my hometown Midland, Michigan, I used to ride my bike down to the  tridge (it's worth a Google). Growing up, I loved being outdoors and engaging in activities such as kayaking, camping, zip-lining, and hiking. Upon looking back, I believe these experiences catalyzed my interests in studying environment conservation. This past year I have recently found a new passion for fishing, and have enjoyed catching and releasing a variety of species all across the Michigan and Ohio waterways. Although, as fun as it is to take pictures with my finned friends, fishing has opened my eyes to just how diverse life is all around us. Over the next several weeks I intend to share with you some of the cool critters I see outside of the Pollinator Patches as well, in hopes that you will be able to have an appreciation for them too. Speaking of cool critters, I also have a pet squirrel tree frog named Dino Mite, who I met last summer chilling in the corn crate I was stocking during my job as a Produce Team Member at Meijer.
Research INterests:
Interestingly enough, this is actually the first research project that I have ever been a part of! That said, I don't have a clear direction yet of the research I want to do in the future. However, this is a good place to enlighten you on how this experience has been going for me thus far:
When I first applied for this job I knew that it was related to the major I was studying, but little did I realize exactly how great of a fit it would be for me. Over these past couple months I have learned so many new things; whether it's a different technique of garden care, identifying a new (to me) bee, or simply finding the time to stop and smell the flowers. While each day brings with it another goal to strive for, seeing the plants healthy and happy spells out success in my eyes. I've enjoyed being a part of the steady progression of this project, and even though weeding may seem like an unappealing task, anyone who's tried their hand at battling dandelions knows just how rewarding it is when you manage to get that full tap root out.
Closing Statement:
Thank you for taking the time to get to know me a bit better! I look forward to keeping y'all updated in the following weeks with all the new catches, sightings, and happenings in our plots.
And Now…
[Back to the Patches]
Garden Updates:
What's been bugging the beebalm?
With all the rain and thunderstorms of the past week, the Scarlett Beebalms has been bogged down with too much moisture! Damp environments aren't ideal for all types of plants, and if you find a powdery mildew on any of your own houseplants try out this simple remedy:
Materials Required:
(1) tablespoon of baking soda
(1) teaspoon of liquid soap
(1) gallon of warm water
(1) gallon bucket
(1) stirring utensil
(1) spray bottle
Instructions:
Fill bucket with warm water. Proceed to stir in baking soda and soap. Submerge the spray bottle into well-mixed concoction. Spray mixture generously on affected plant.
battling the beetles
In addition to non-ideal conditions set by the forecast, the Scarlett Beebalm and its neighbors have been receiving unwelcome guests (as pictured below). Although it is true that beetles are pollinators, not all beetles are conducive towards stimulating healthy plant growth. While we do not endorse squishing critters of any kind, if you happen upon any of these critters in our patches, feel free to show them your disapproval by shooing them away (you know what to do).
Goodbye Bearded Blooms
Unfortunately this past week's weather has made us bid an early adieu to some of our lovely flowers in the Pine Patch. Among which the majority include Foxglove beardtongue, and a few Pale purple coneflowers. The Golden Alexanders have also closed up shop for the remainder of the summer and will be back in bloom next year.
Did you miss the chance to see them in person? Never fear, iNaturalist is here! Click on the links below to enjoy these flowers in their former glory!
Turning a new Stone
There have been lots of changes within the patches this past week! Not only did we clean up the aisle-ways in preparation for wood chip paths, but we also got to plant the new plugs! With roughly 60 plants to plant, Emily and I spent a couple of days finding the right spot for each newbie.
As you can see below, The College Garden has expanded to a 7th bed where 18 new transplants currently reside. Around 20 other plugs were able to be nestled into the 6 pre-planted beds, and the remaining 20 have started their new adventures living it up in the Pine Patch.
Gardening Tip
One of the neat features of utilizing tarps to break down your cover crop, is that it can be recycled into straw to deter weeds from taking over the bed.  Don't get too excited though, these beds will still need to be weeded like any other, or else all your past work could be for naught!
Be(E) On the Watch:
My favorite Microscope Pic of the Week
Test your skills! Can you spot the insect?
The Bunnies are back!
And Last but not least…
—————————————-You have reached the end of this post ———————————————-