What's up y'all it's another wet weekend here in Wooster and the weather has been wicked. I hope you have managed to keep dry, are surrounded by clear skies, and are ready to conceptualize the growth of our Pollinator Patch enterprise!
[Research]
Field Days
On Monday we visited the William J Robertson Preserve in Rittman, Ohio, where I got a 20-step tutorial in how to conduct a sweep. Since I identified all of the 2021 Fern Valley sweep samples this past week, it's exciting to have learned that method of specimen collection.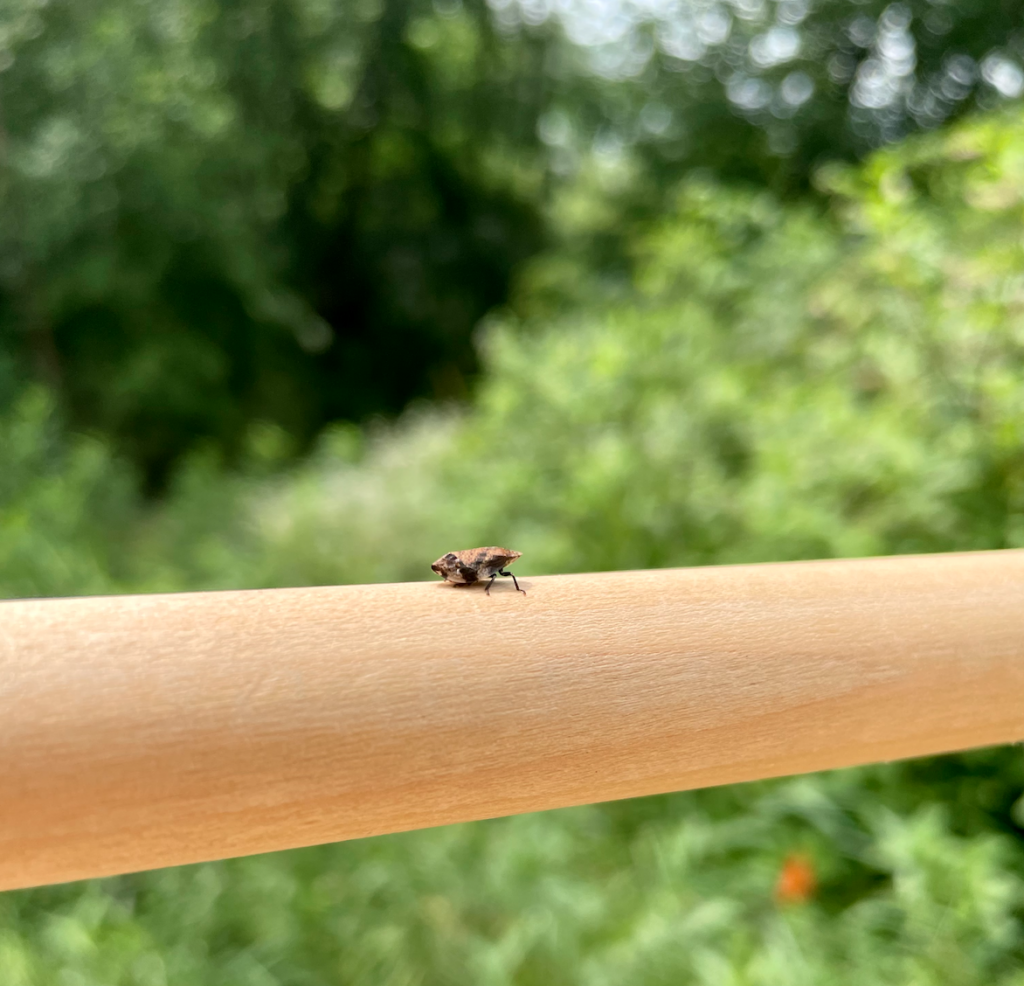 Funnily enough, the bug you see above is actually what Dr. Moreno and I are searching for amongst the mulch experiment in the next town over (Orville)! I set up the last set of sticky traps at Lavender Trails yesterday, and we are scheduled to collect them tomorrow. It's wild that we're already at the end of our sampling season and are back on track to the start of school…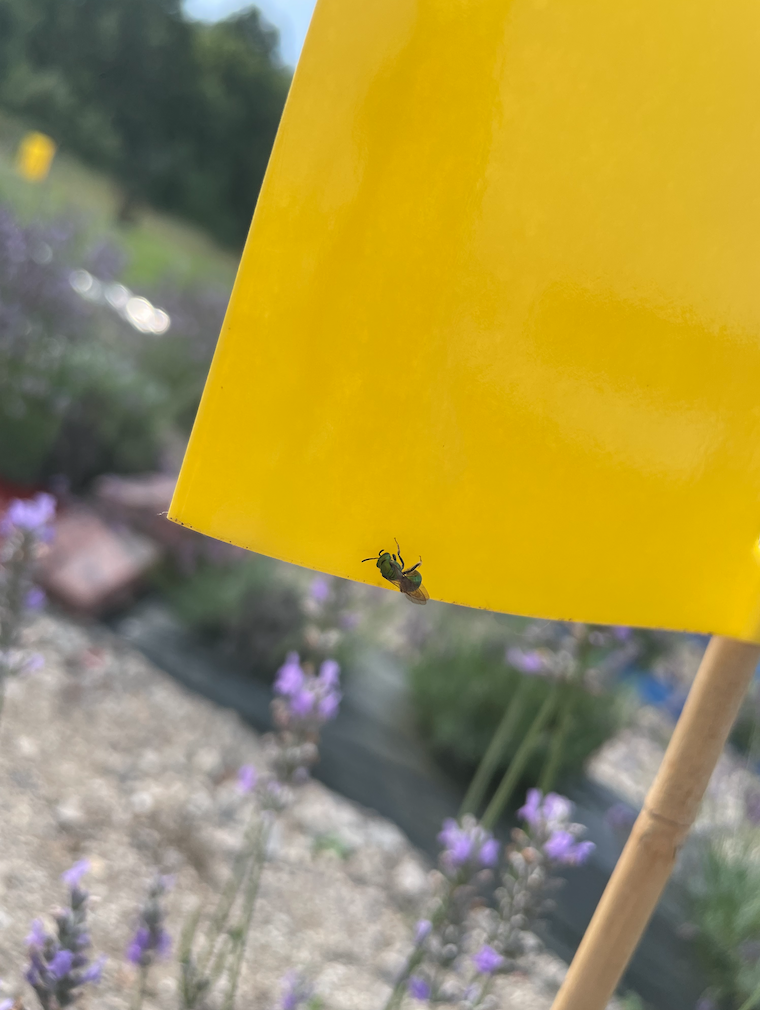 Sightseeing Signs
On Tuesday, Dr. Moreno and a couple of his advisees got to help Brendan Ortiz (Woo '23) with the start of his hydroponic workshop over in Akron, Ohio. Set up at the Akron Cooperative Farms' main pavilion, individuals had the opportunity to learn and build their own deep culture hydroponic system. The workshop will run throughout the summer and students will engage with various hands-on activities concerning the ins and outs of urban gardening. During a tour, we spotted an excellent example of warden signage employed by the Cooperative to signal the presence of two honeybee hives nearby.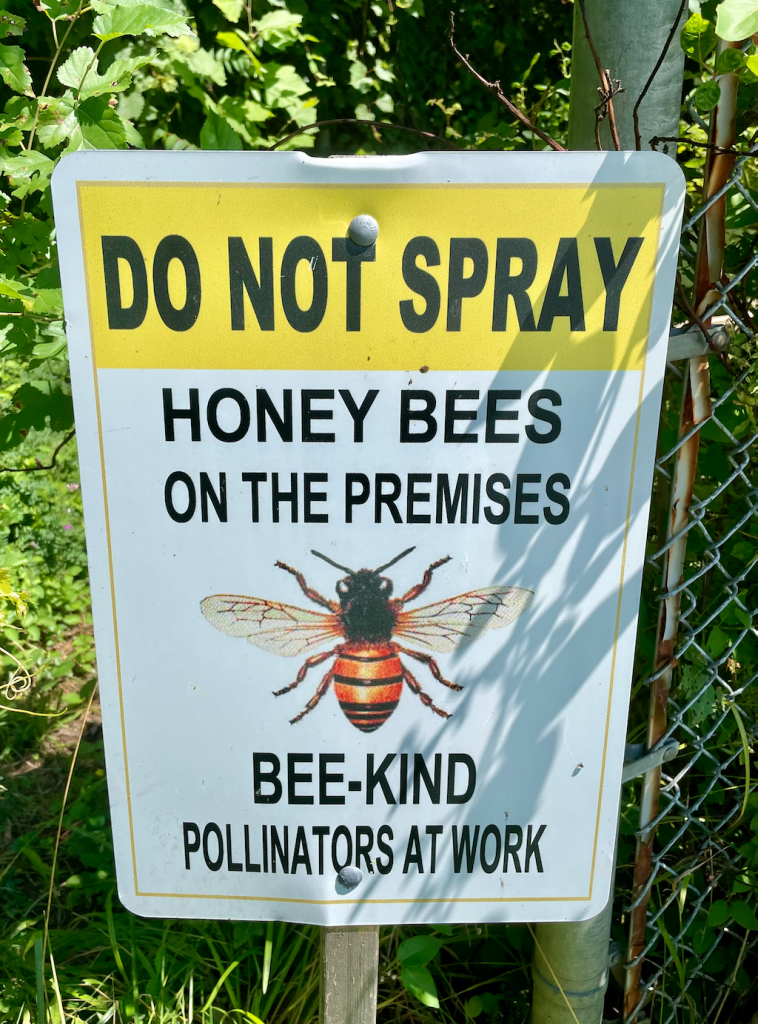 Stars of the 'Scope
The first of a few lady beetles this blog post, I like this lil guy because the spots make it seem like it's smiling [ :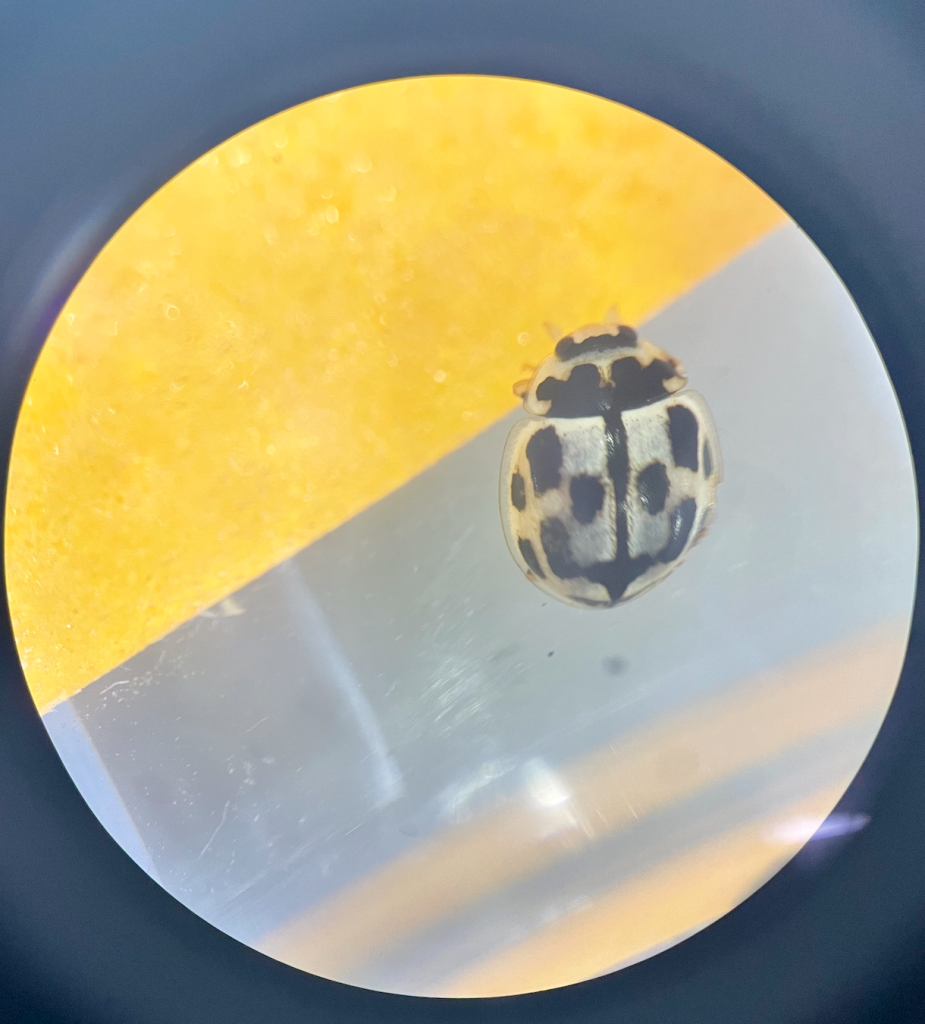 Cool find from the 6/18/22 Pollinator Plot Pan Trap Collection, a Holcopasites cuckoo bee! Known to exercise brood parasitism on Calliopsis bees (the yellow-faced fellows from a previous post), these parasitic bees manage to infiltrate their offspring into solitary bee nests, where they later commandeer food resources from the Calliopsis' young.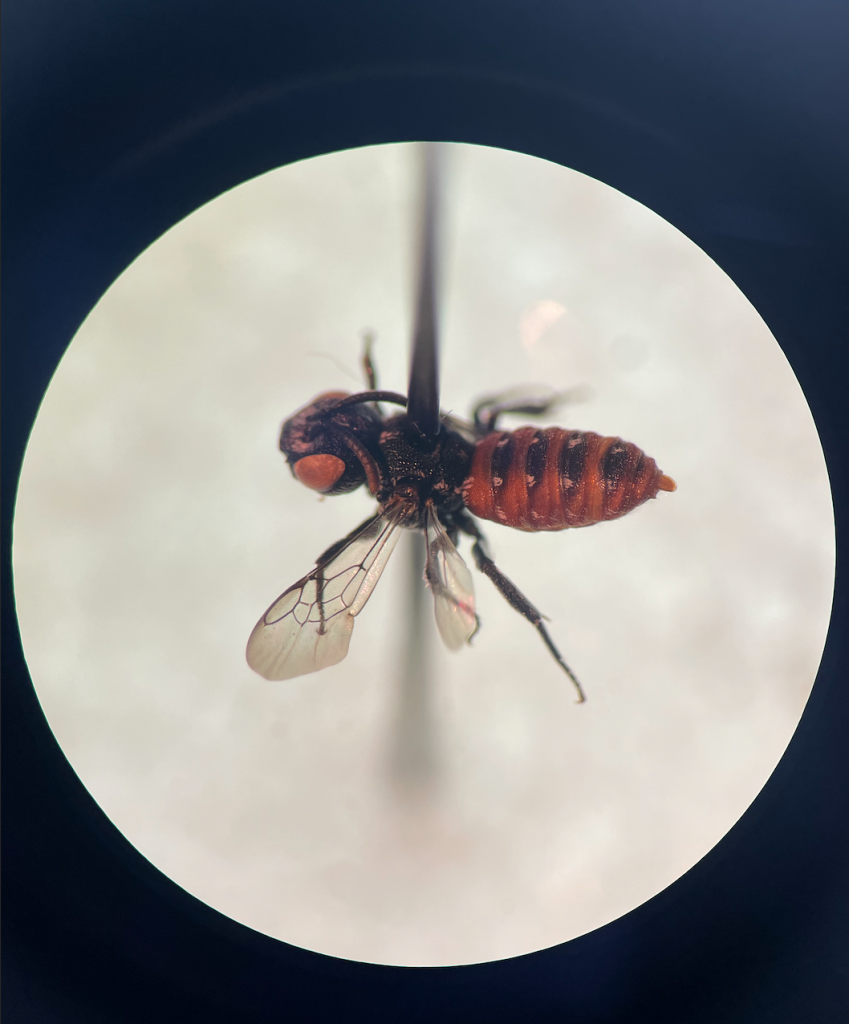 [College Garden]
Purple Reign
The coneflower from last week surprised us with two new blooms! Aren't they great? The Ironweed bloomed as well over this week, and the bees are already loving it!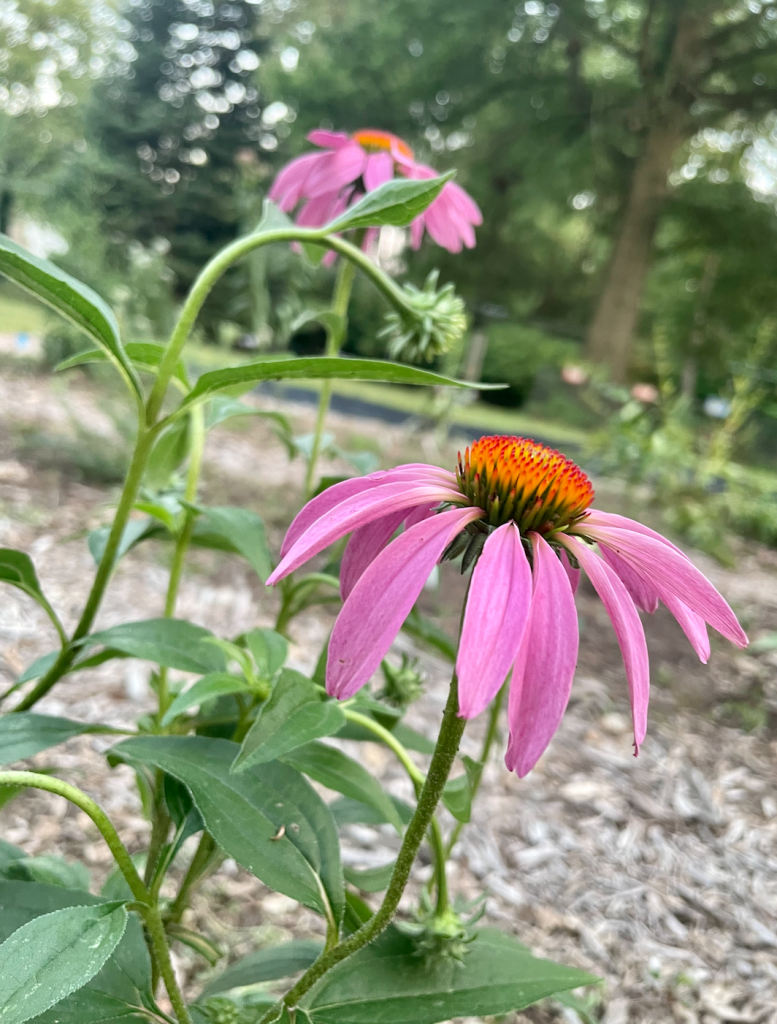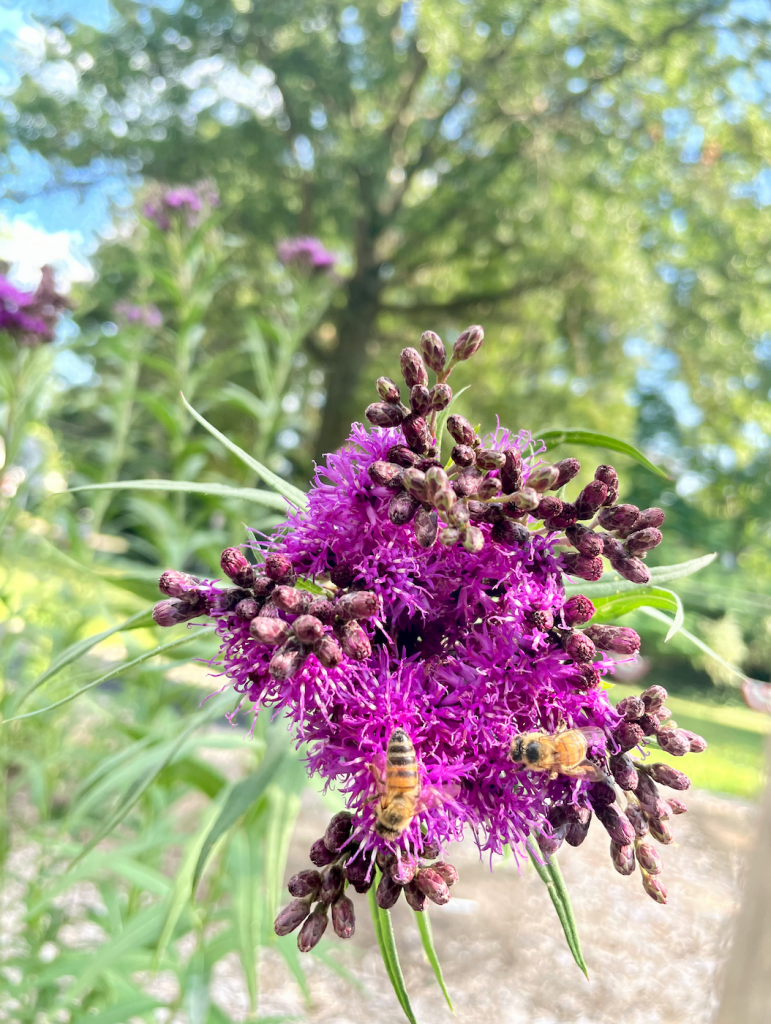 Yellow-Bellied Bugs
Although there is certainly an abundance of aphids on this milkweed, I decided not to counter them with soap because the plant is going to seed and had already stopped flowering. Interestingly though, you will notice how the aphids at the College Garden are yellow whereas those occupying the False Sunflowers in the Pine Patch are red. As aphids are considered primary culprits of plant damage, I'll keep a lookout for any blue ones!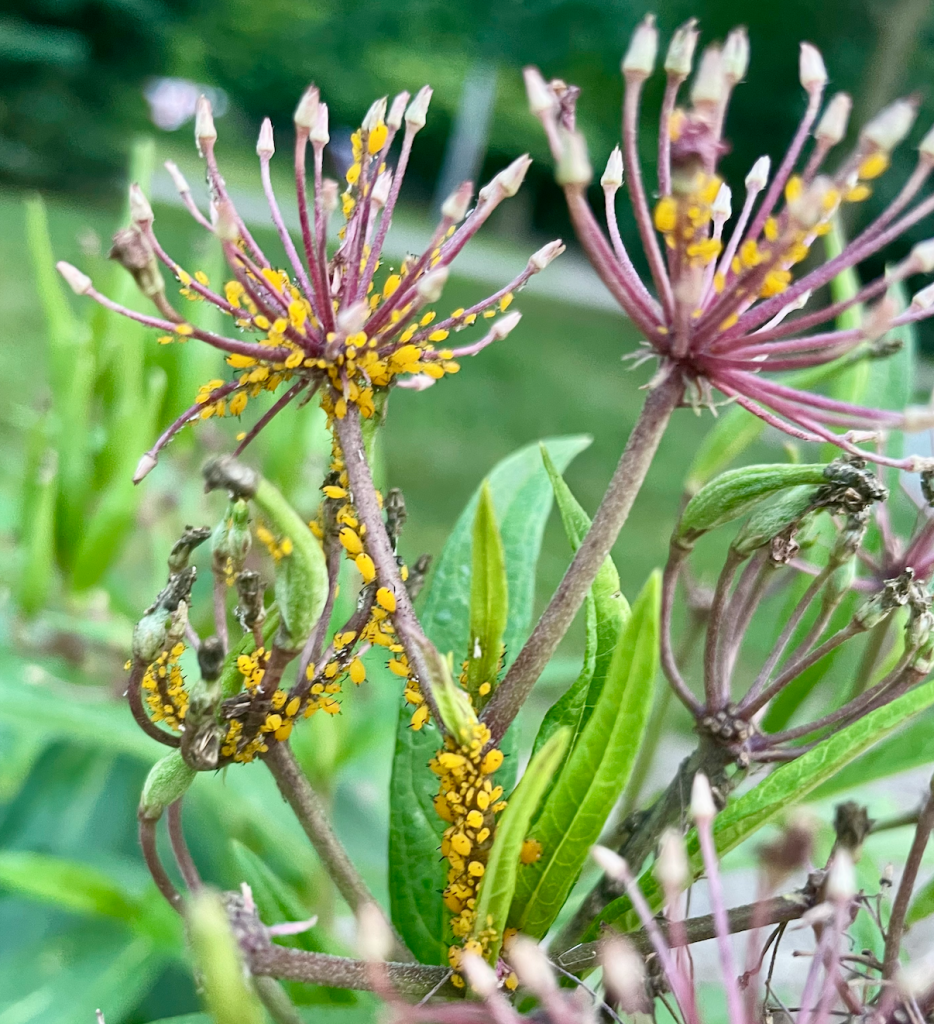 Too Bee-zy To Be Bothered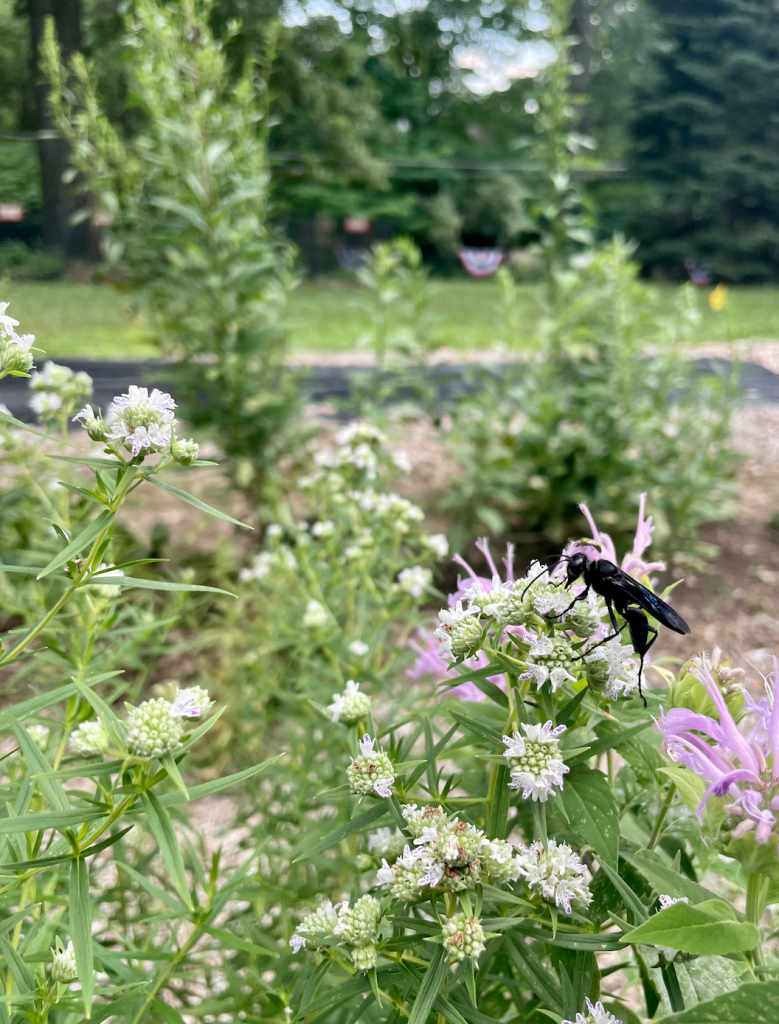 [Pine Patch]
Watered Plenty
The weather of the past couple of months may have given our plants a slight lean, yet you will notice that they are still happy, lively, and green!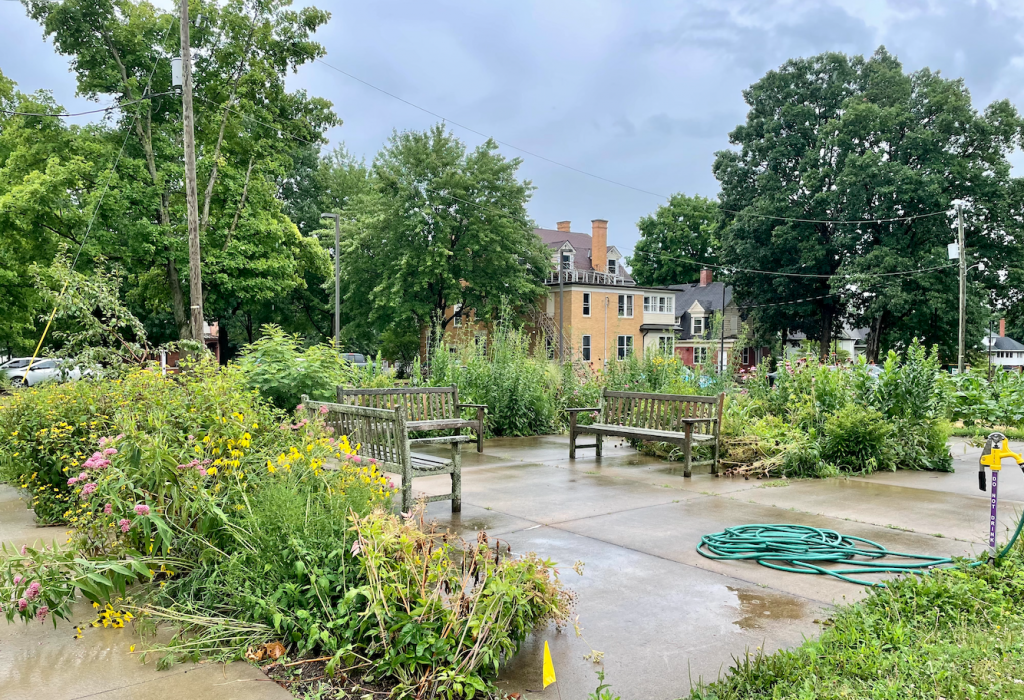 Hive Mind
In continuation of his study surrounding the impact of honeybees on local bees, Matt Pardi's bee box has arrived this week in the Pine Patch. You may notice a larger number of honeybees out & about so keep it top of mind that you don't want to disturb the hive!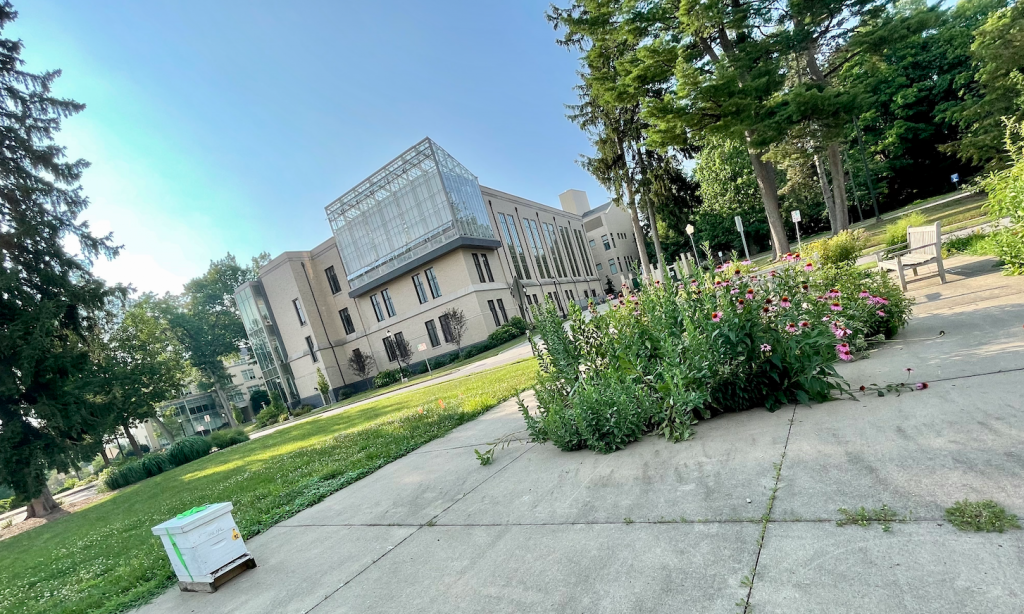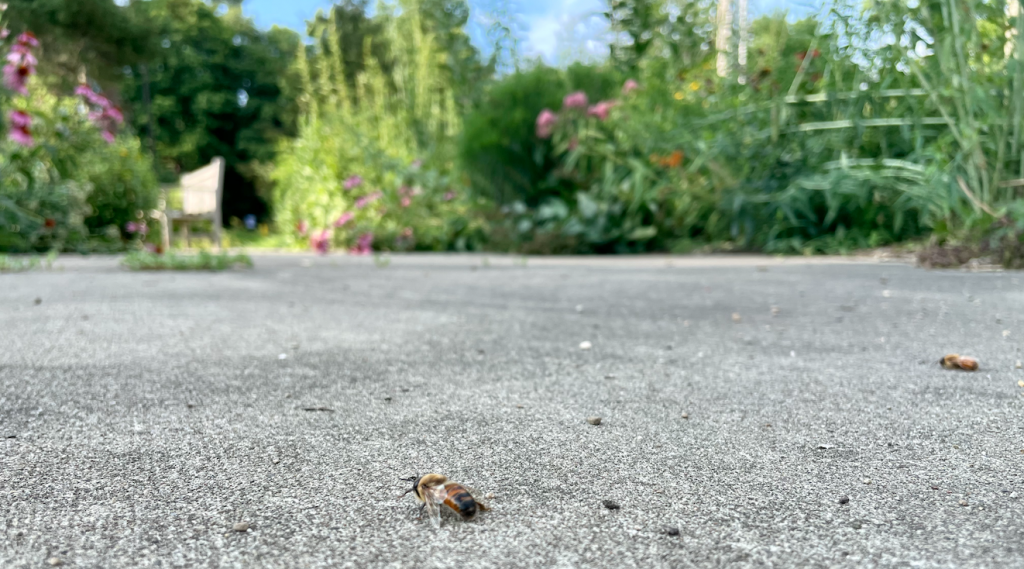 Special New Petals
One new bloom to the Pine Patch this week: Wild Senna! Also as a bonus, try your hand at spotting the bee… I'm sure our bud is around there somewhere!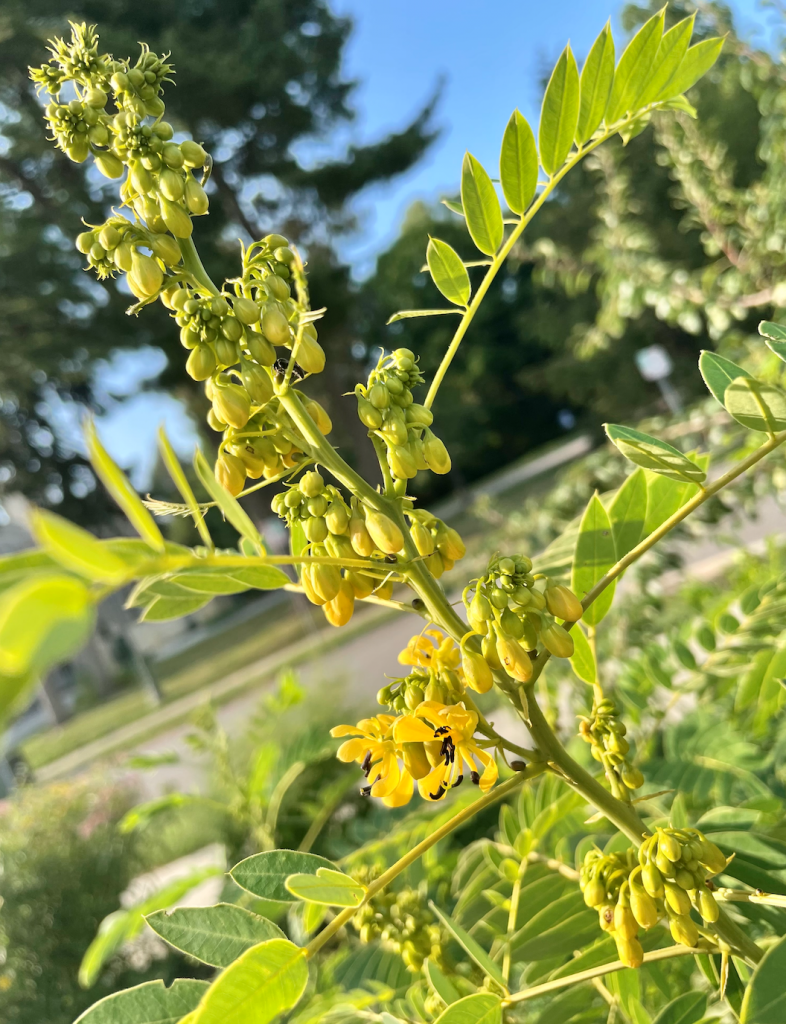 Guardians of the Garden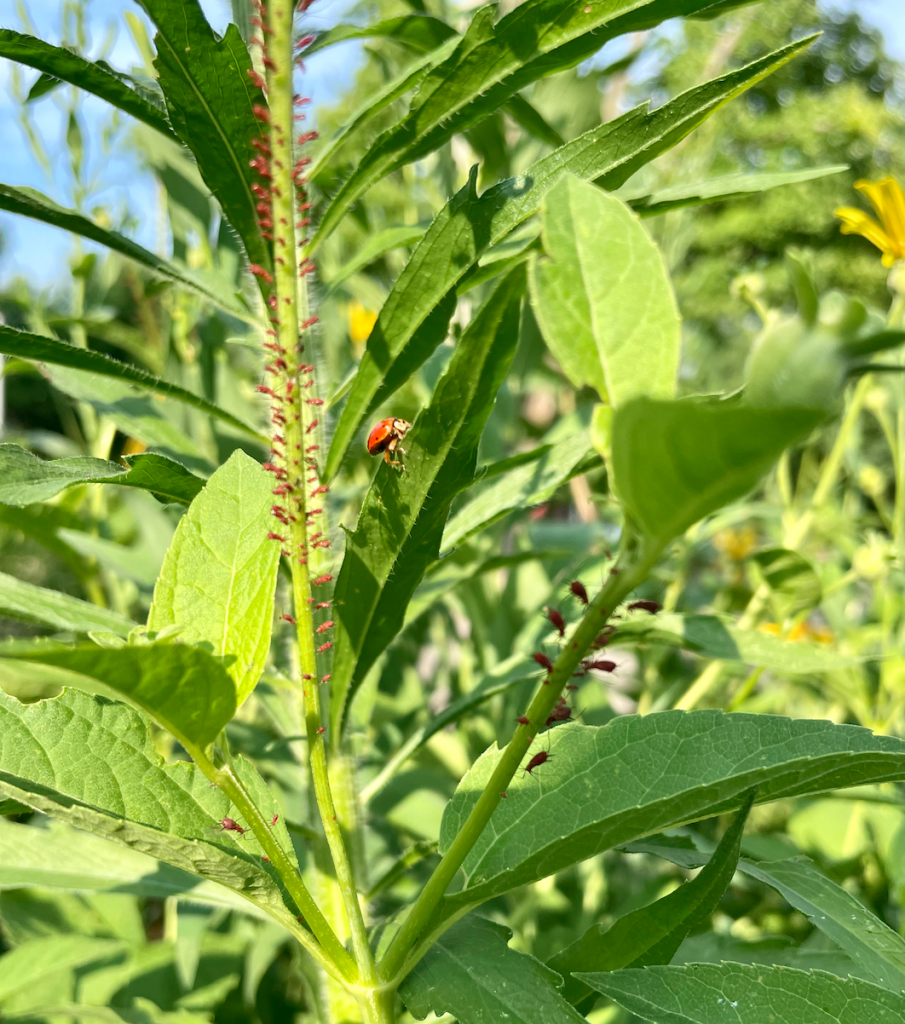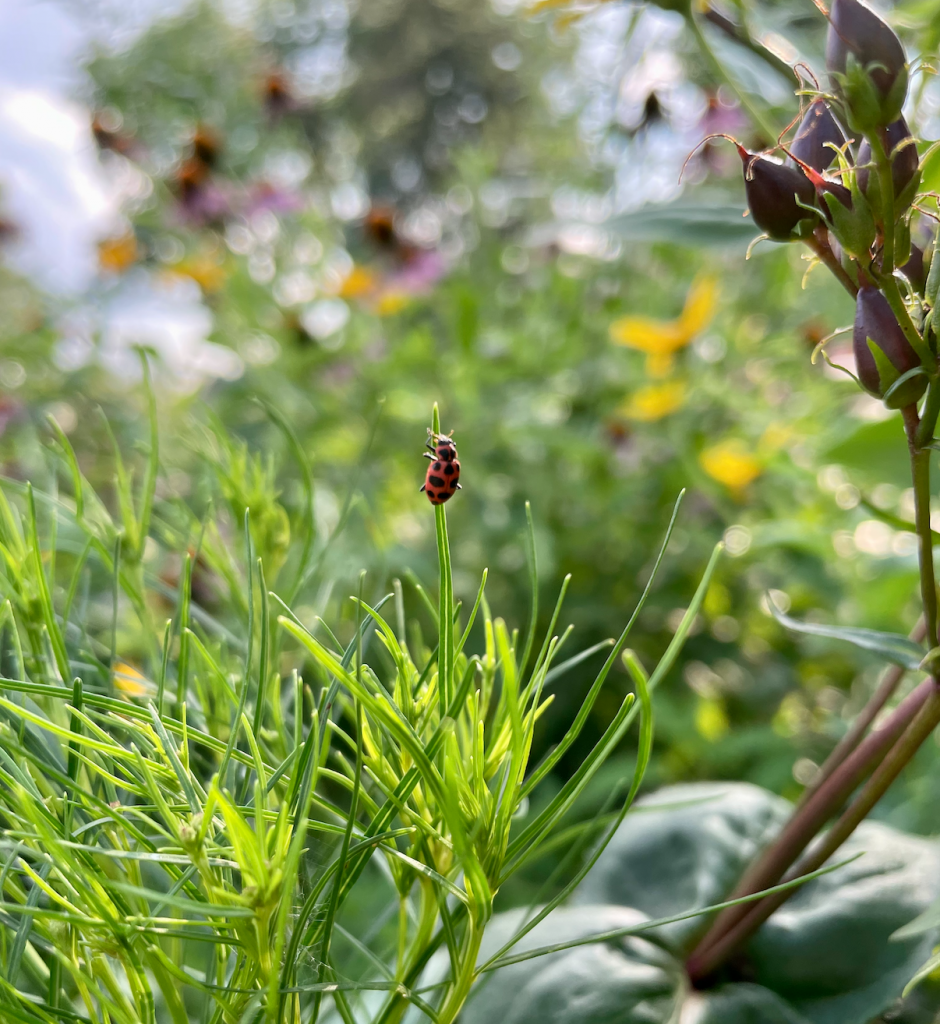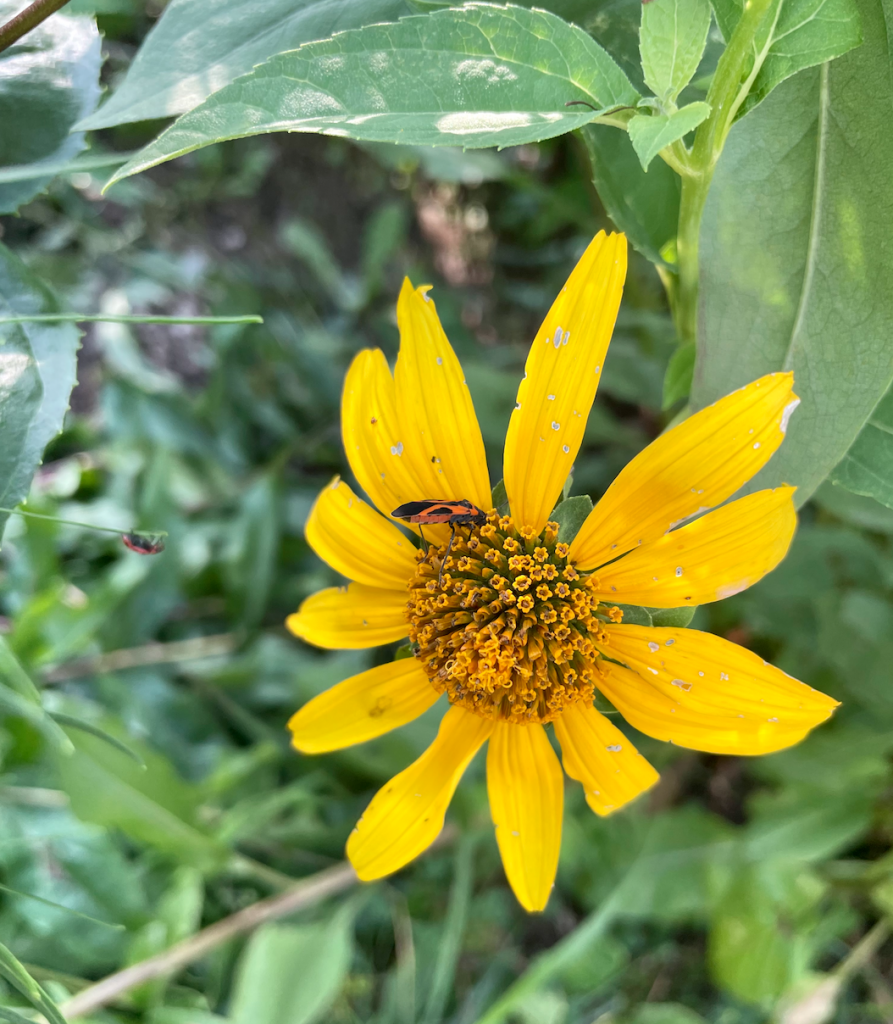 Midnight Munchies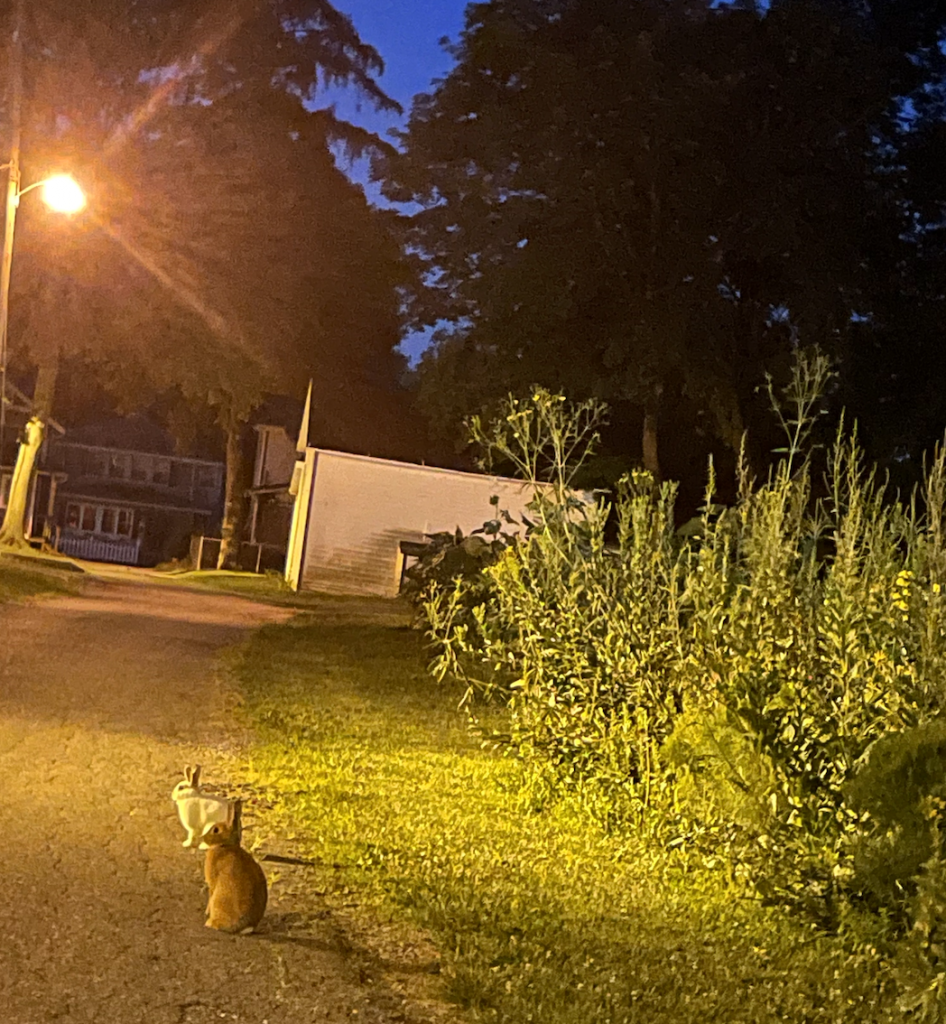 Bun 1 & Bun 2 Visit the Pine Patch Past Sun Set
[Vegetable Garden]
Sunny Daze
The sunflowers have arrived and they really showed up in all the colors of the sun! It looks like the bees are already finding them rather fun. And when the rest of the buds begin their blaze there will be more sunny news to come!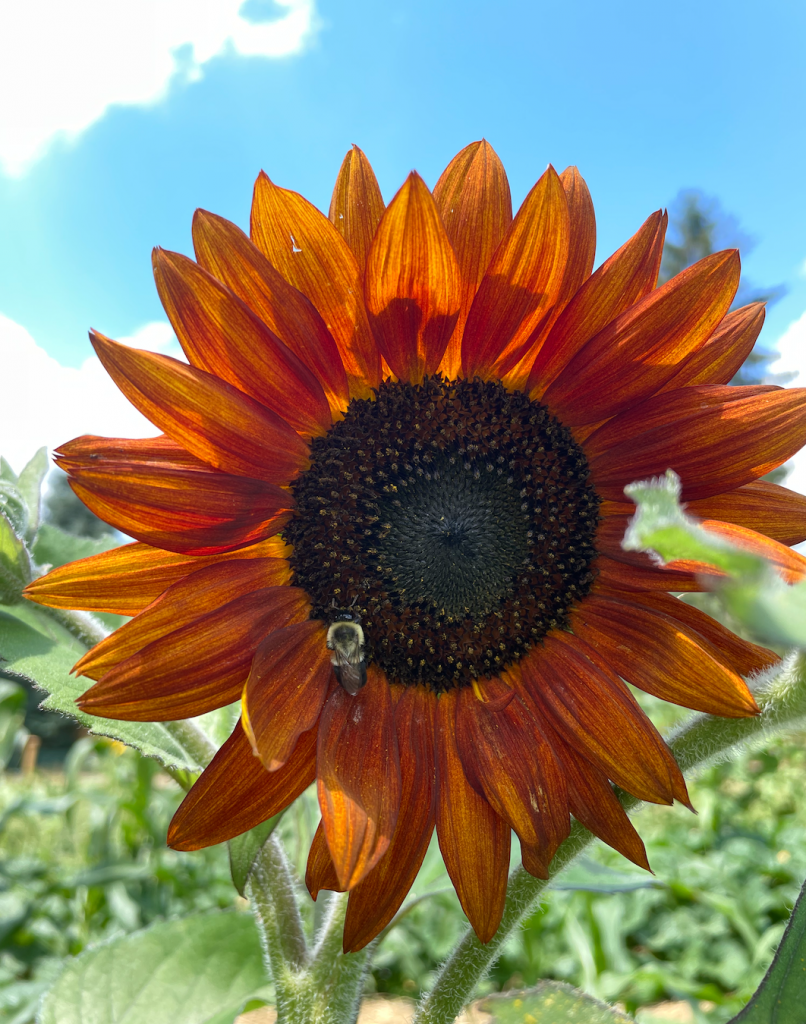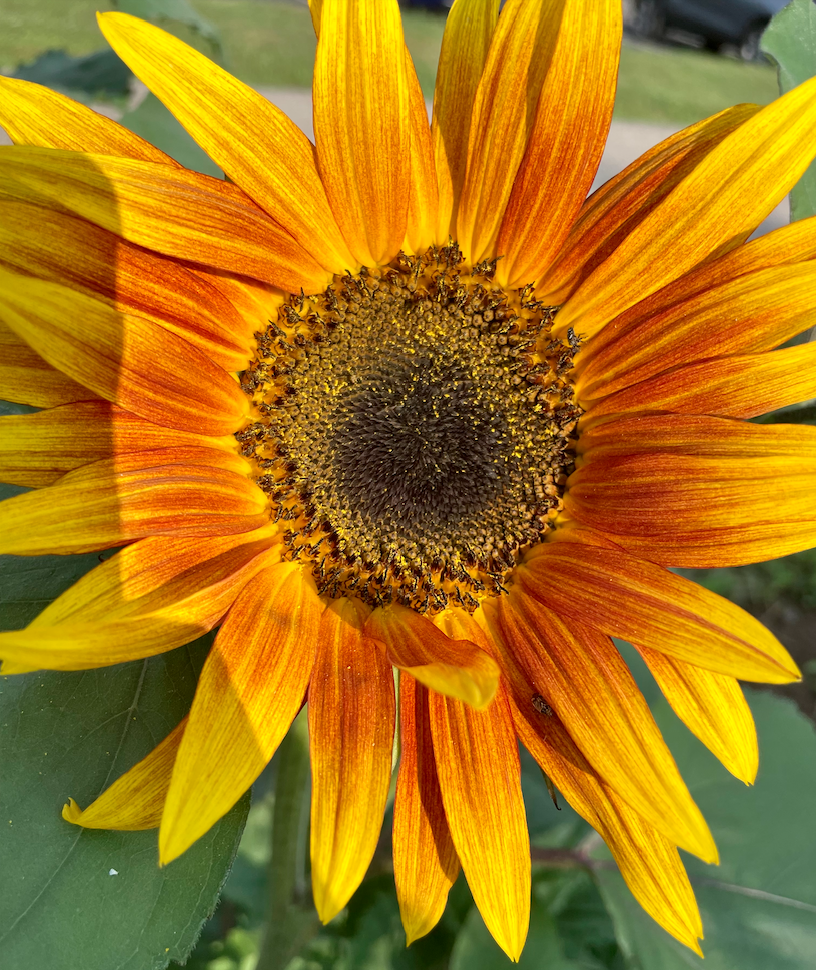 Sprouts Reaching Out
The sisters have apparently decided to branch out from their beds and start networking with one another. Make sure to watch your step if you're strolling through the straw aisles!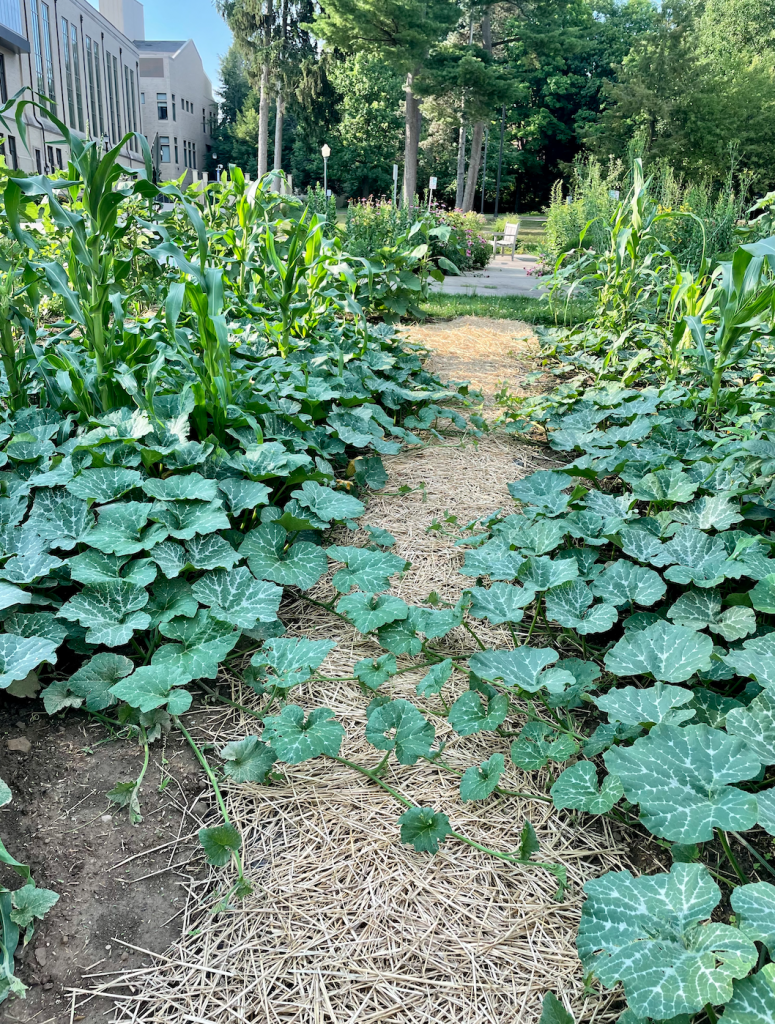 [Found Around Town]
Hey! That's a Hibiscus?
I don't know about you, but I generally don't associate hibiscus flowers with Wooster, Ohio! Here are several that I spotted across campus, it's a shame that they'll be gone before the fall…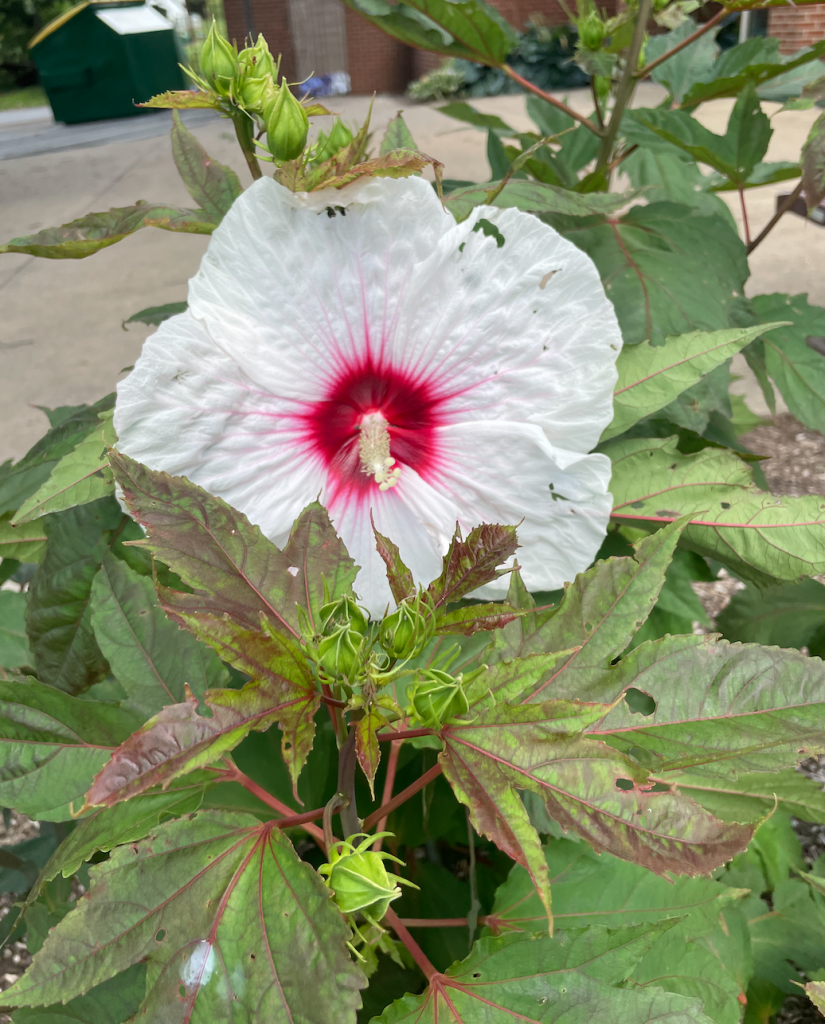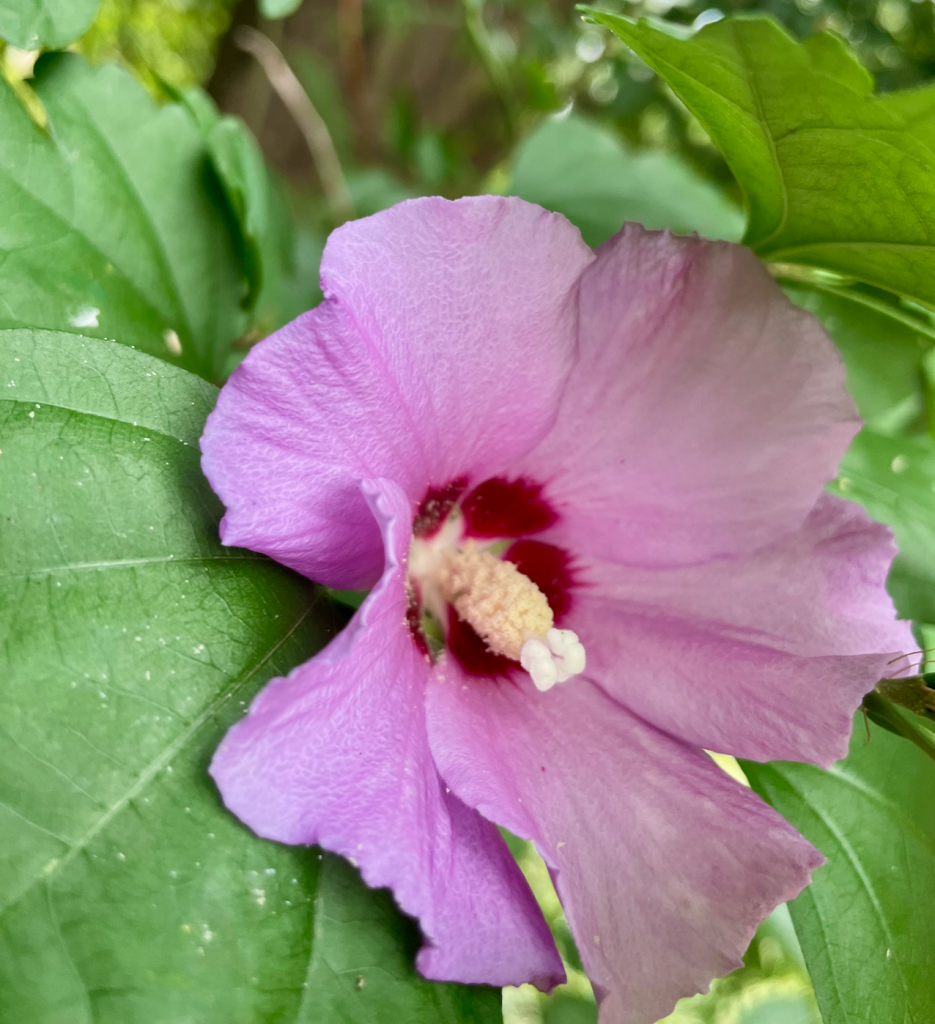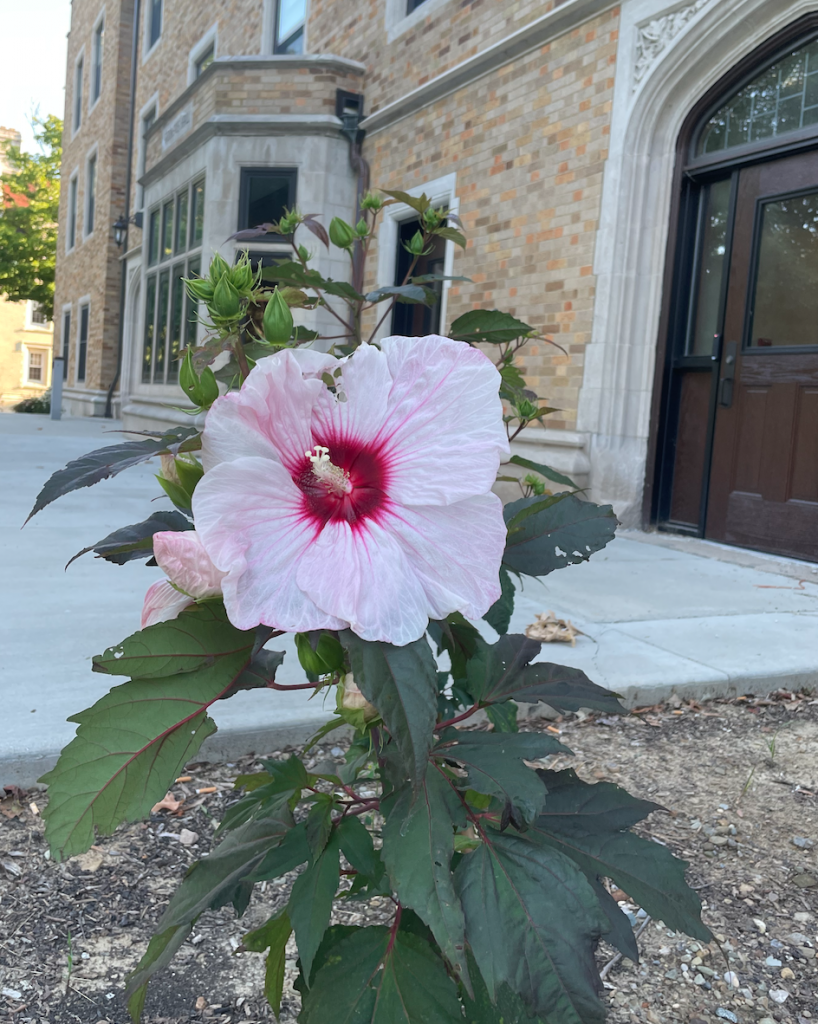 Pleasing Pink Plants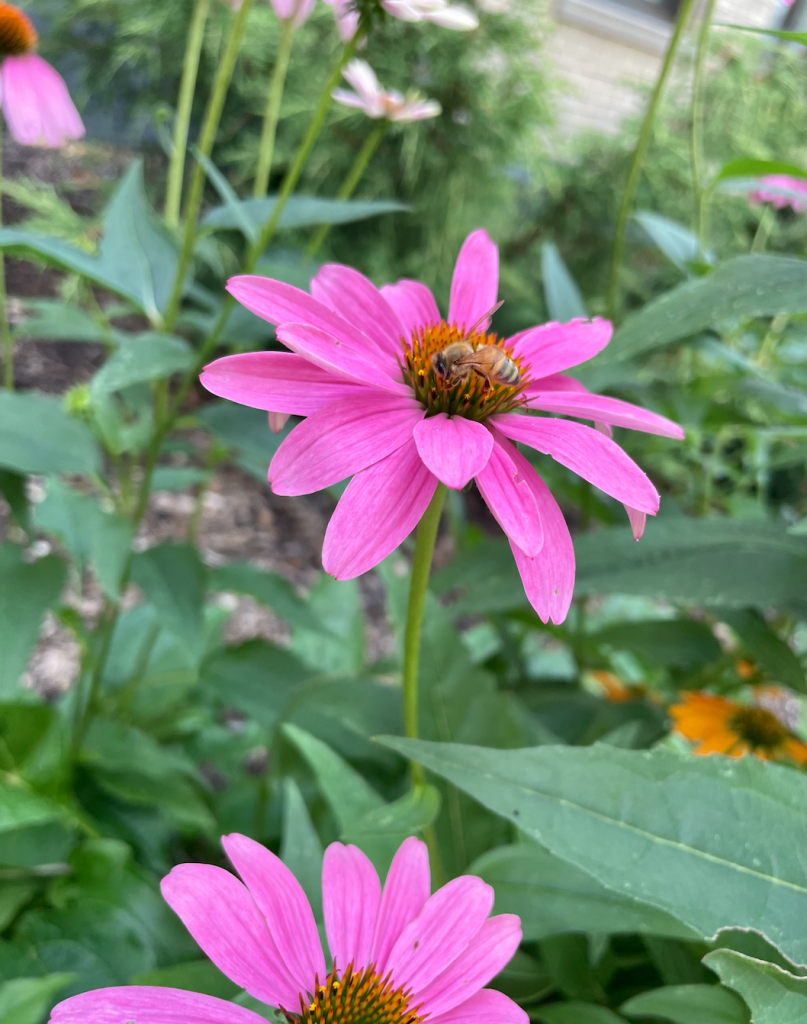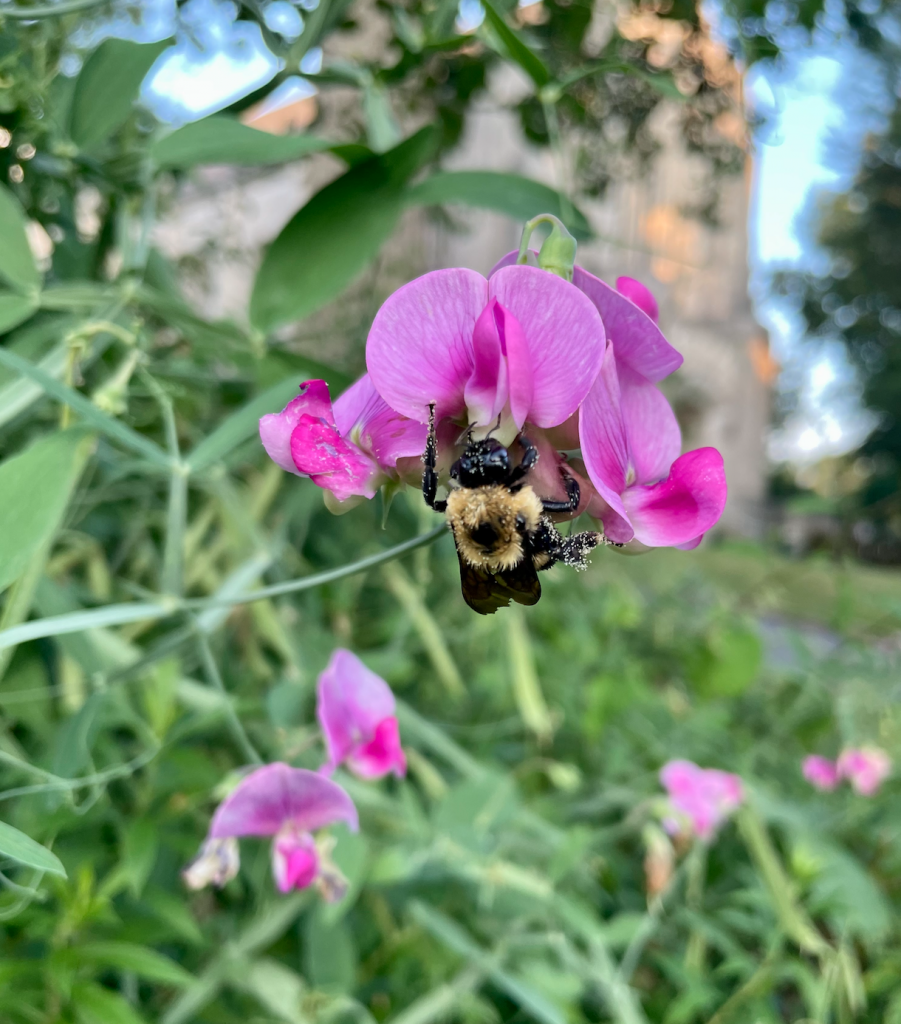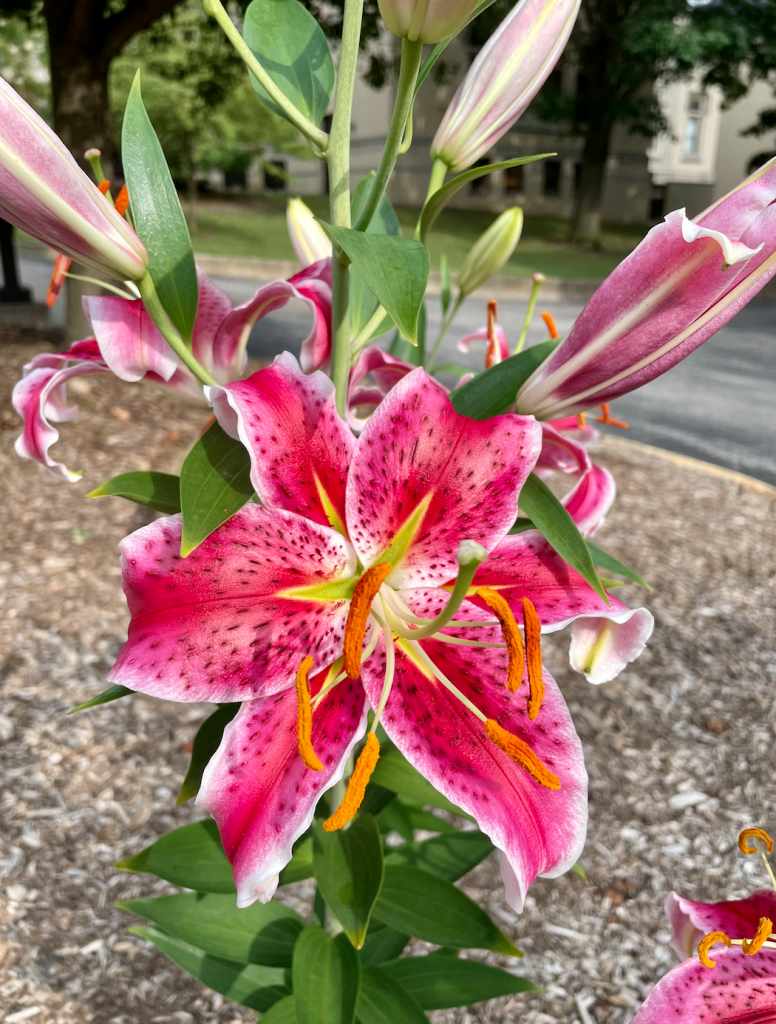 Storms A Brewin'
We've had a week of storms here in Wooster. On Wednesday these cool clouds could be seen next to the arch, & I managed to get a picture of the lightning mid-strike: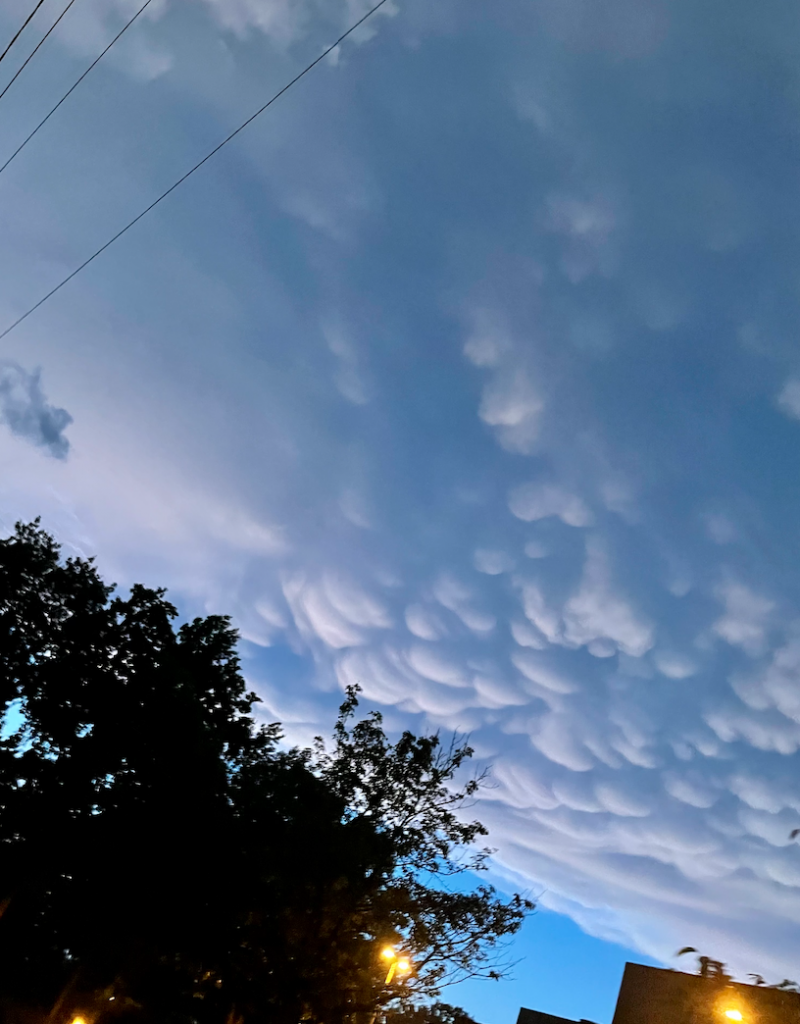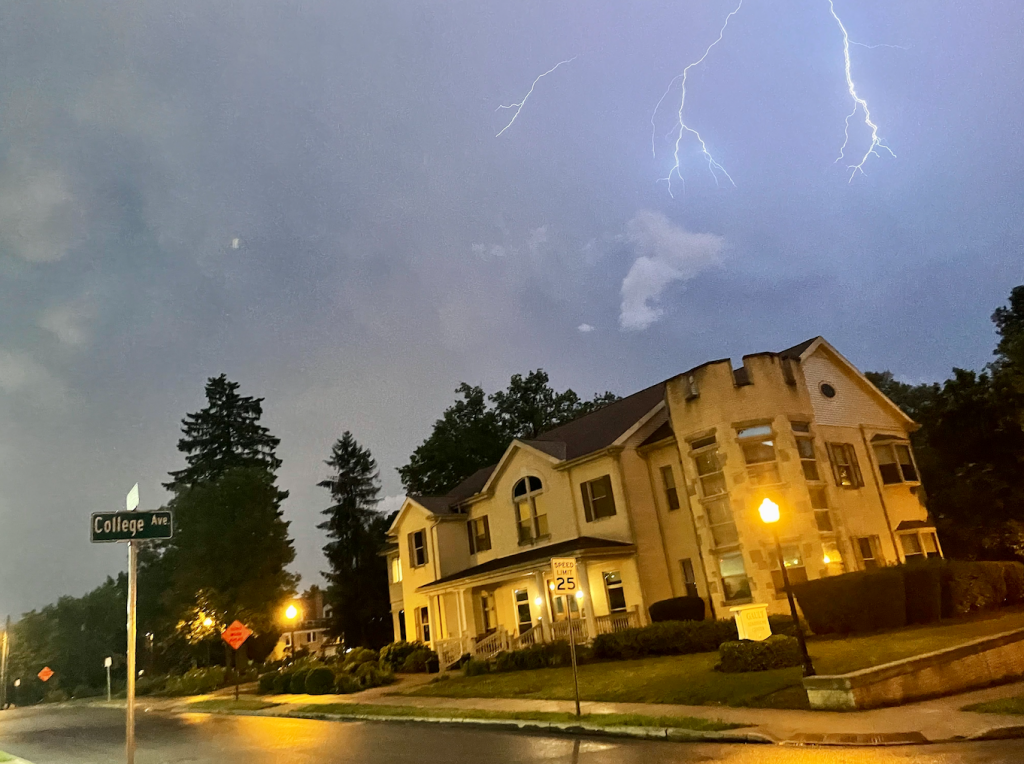 Insects on the Go!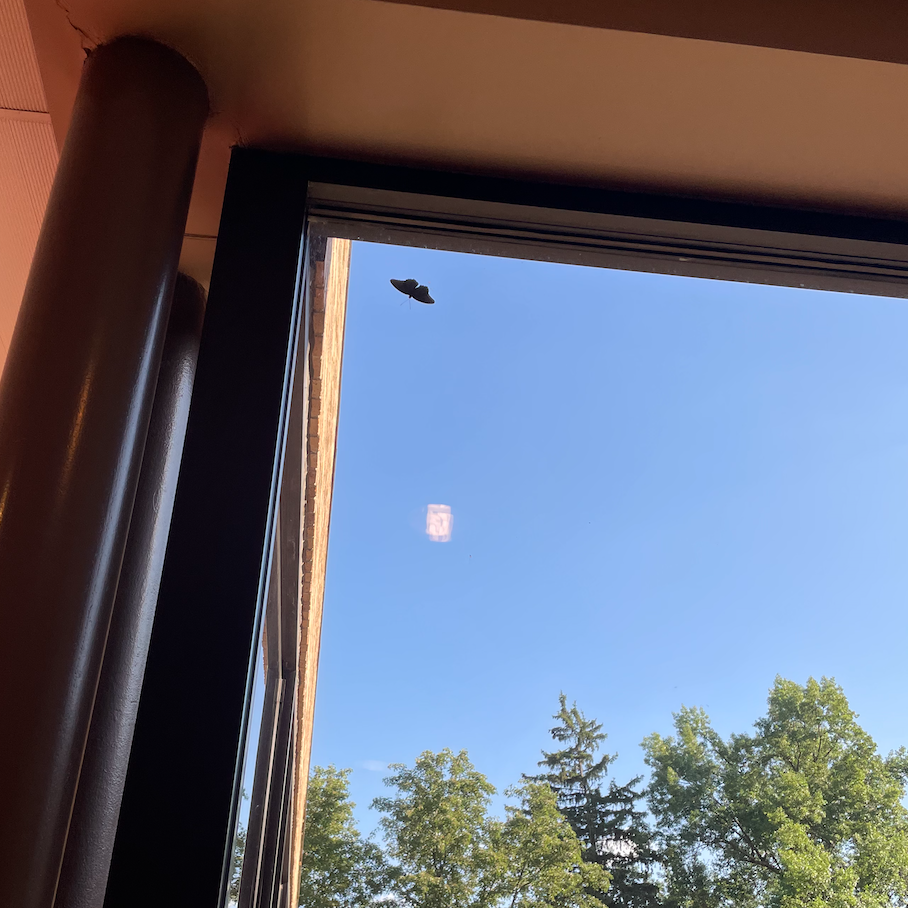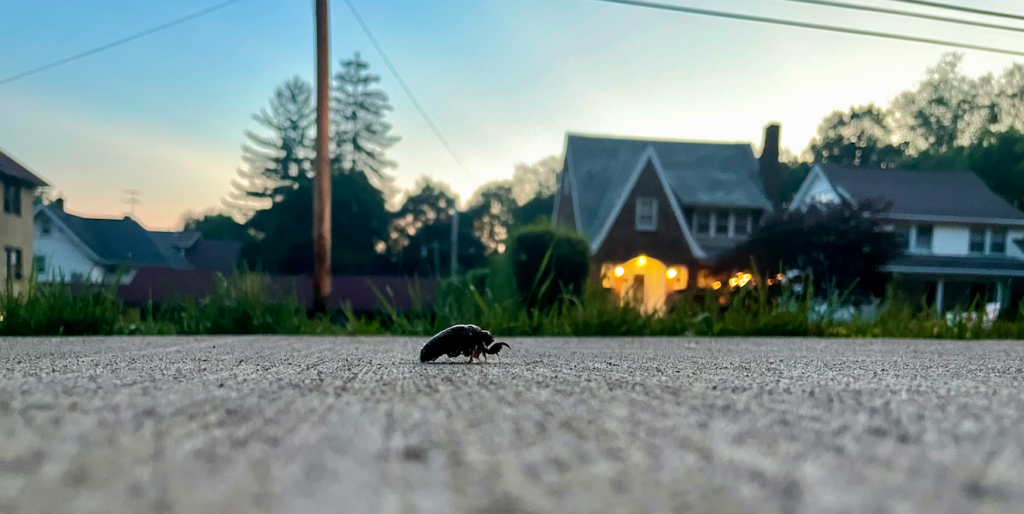 Walking on the Daily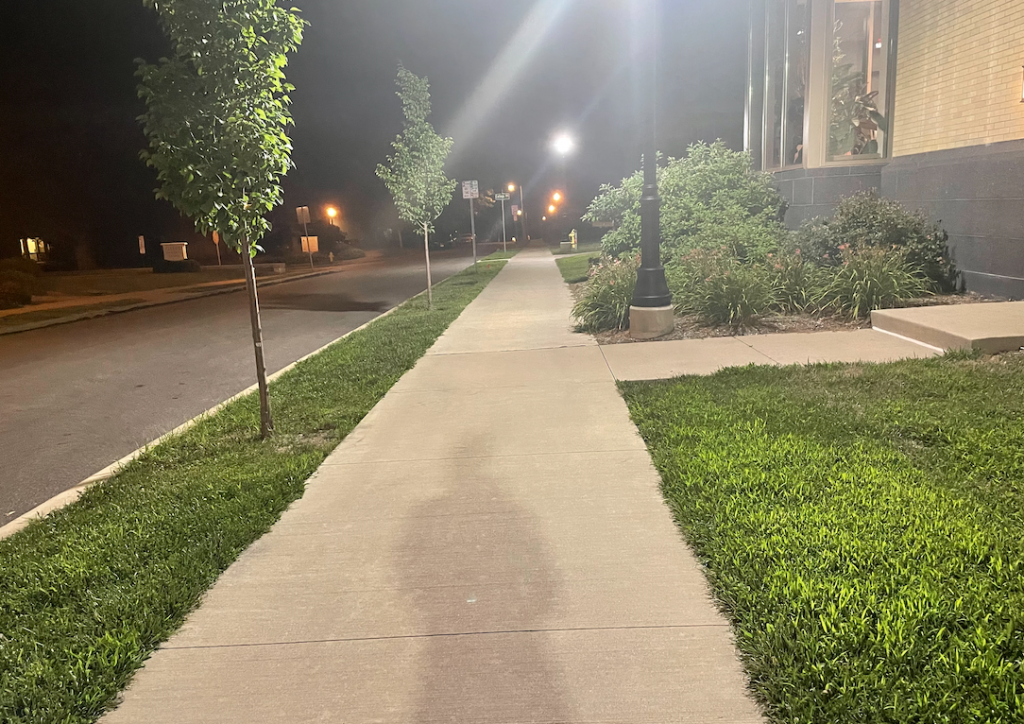 [Smell Ya Later]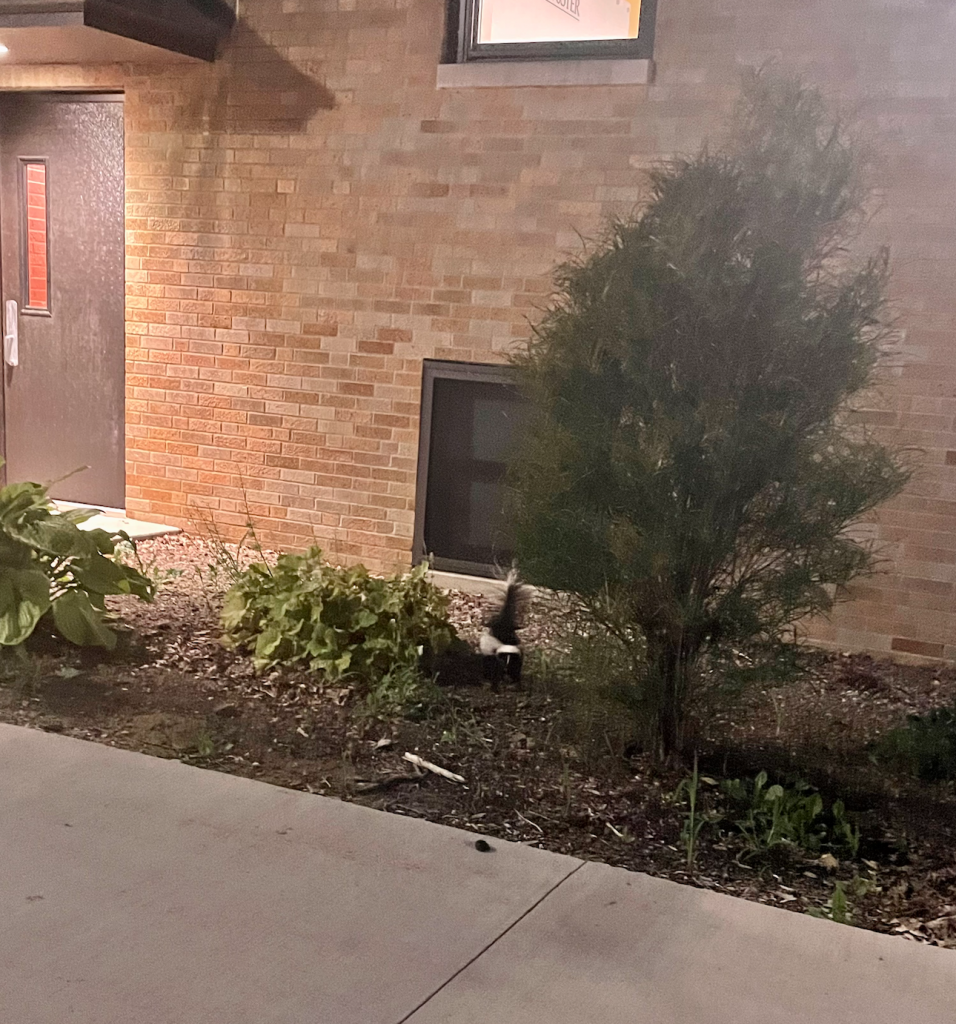 (Bee Pun Counter: 1 😧)
—- You have reached the end of this entry —–